Lotto Winners: Barbara & Ray Wragg, £7.6m ($9.3m USD)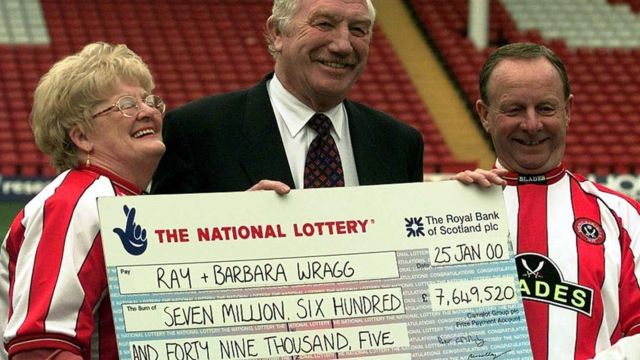 The Heartwarming Legacy of Lotto Winner Barbara Wragg: A Tale of Philanthropy and Generosity
Barbara Wragg's remarkable story is a testament to the power of generosity, capturing hearts and headlines around the world. In 2000, Barbara and her husband, Ray Wragg, won a staggering £7.6 million in the UK National Lottery, but rather than indulging in a life of luxury, the couple chose to use their newfound wealth to make a difference in the lives of others. This article delves into the inspiring tale of the Wraggs' philanthropic journey and the legacy they've left behind.
Humble Beginnings and a Life-Changing Win
Prior to their big win, Barbara and Ray Wragg lived modestly in Sheffield, England, with Barbara working as a nursing auxiliary and Ray as a hospital porter. On January 22, 2000, their lives changed forever when they won the £7.6 million jackpot. However, the couple remained grounded and committed to helping others, deciding to dedicate a large portion of their winnings to charity.
A Philanthropic Mission: Donating Millions to Charities and Hospitals
Over the years, the Wraggs donated an estimated £5.5 million of their winnings to various charitable causes, touching countless lives in the process. Their generous contributions funded life-saving medical equipment, sponsored research projects, and supported vital services for children and the elderly. Among their most notable donations was a £500,000 contribution to the Sheffield Children's Hospital, which funded a state-of-the-art scanner to detect and treat cancer in children.
Inspiring Acts of Kindness: The Personal Touch
Beyond their large-scale charitable endeavors, the Wraggs were known for their personal acts of kindness, often going above and beyond to help those in need. Barbara, in particular, was renowned for her selfless nature, regularly visiting hospitals to deliver gifts to patients and offering emotional support to families facing challenging times. These small but significant gestures cemented her reputation as a true local hero.
The Legacy Lives On: Barbara Wragg's Passing and Continuing Impact
Sadly, Barbara Wragg passed away in 2018 after a courageous battle with sepsis. Her death left an indelible mark on the community, with many mourning the loss of a woman who had given so much to others. However, the Wraggs' inspiring story of generosity continues to resonate, reminding us all of the power of kindness and the importance of giving back.
The tale of lottery winner Barbara Wragg and her husband, Ray, is an extraordinary example of selflessness and compassion. By dedicating their fortune to philanthropic causes and touching the lives of countless individuals, the Wraggs have left an enduring legacy that serves as a beacon of hope and inspiration for us all.